The conference league is a new competition introduced in 2022 by UEFA. The first ever played final will be held in Tirana, Albania on 25.05.2022.
In the conference league you have 8 groups in total. Each group will have 4 teams. The first ranked teams from the eight groups will automatically go to the Round of 16 matches from the Conference League.
Further the second placed teams in the groups (total 8 groups) from the conference league will play Knock out play off´s againt the 3rd ranked teams from the UEFA Europe League. The winner from the knoch out plays off will participate at the Round of 16 Conference League matches.
Conference League games will be played on thursday´s at 18:45 or 21:00 CET equally to the UEFA Europe League.
The Nati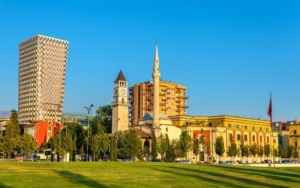 onal stadium is openend in November 2019 and has a capacity from approx. 21.500.
The Conference League Final winner will secure a place at the upcoming Europe League season.
Contact us now and click here for further information! By phone please dial +31534753020.